Morpheus8 in Reston
Morpheus8 RF fractional solution combines radio frequencies (RF) and microneedling for full body subdermal adipose remodeling.
The microneedling penetrates the skin, allowing radio frequencies to go deeper into the skin triggering the growth of collagen and elastin.
Why Choose Morpheus8 RF Technology?
Microneedling alone does promote collagen and elastin growth on a surface level. When that technique is coupled with radio frequencies, the growth of these important anti-aging proteins is stimulated on a much deeper level.
If you have sagging skin, sun damage, enlarged pores, acne scars, crepey skin, stretch marks, or discolorations, you'll love this amazing treatment as it is quite successful at treating all of these issues.
This is a versatile and powerful treatment that improves skin tone and texture on several areas of the body including the face, neck, chest, abdomen, and thighs.
One of the most important advantages of Morpheus8's RF technology is that it does not require surgery. It is minimally invasive, safe, effective, and requires no downtime for recovery.
What Does Morpheus8 Feel Like?
You may experience slight warmth from the radio frequencies. The needles used are extremely small, and most people experience no pain. If you're concerned about discomfort, ask your provider about a numbing agent.
When Will I See Morpheus8 Results?
The production of collagen and elastin takes time which, means you won't see full results immediately.
You'll begin to notice a change in the appearance of your skin within a few days. Over the course of the next few weeks, you'll see significant improvements. The final results can be seen after about three months.
How Long Do Results of Morpheus8 Last?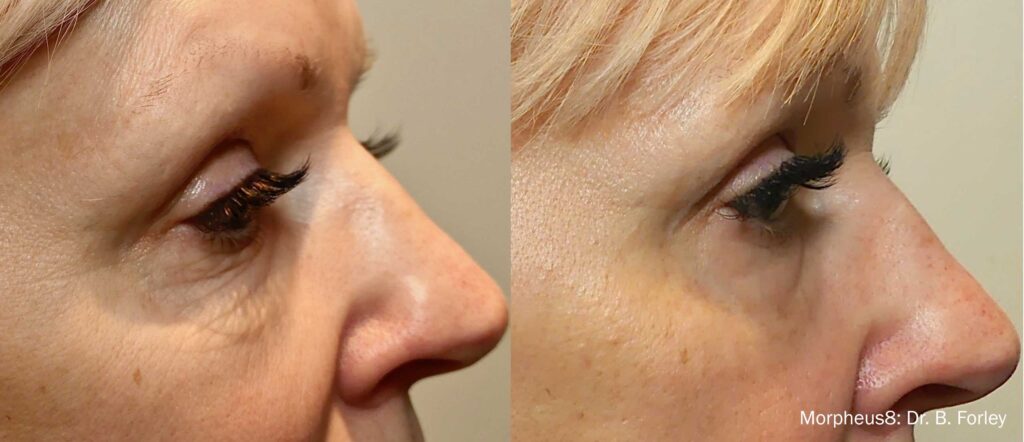 For most patients, the results of Morpheus8 microneedling last up to 18 months. It is important you keep your follow-up appointments until you achieve your desired results. An annual treatment will likely be needed to maintain your youthful appearance.
Will I Need More Than One Morpheus8 Treatment?
Typically, patients require two or three sessions to see the desired results. Sessions should be scheduled four to six weeks apart.
It's important to note that by leading a healthy lifestyle with a proper diet and exercise you will be able to enjoy the benefits of this sensational cosmetic treatment longer.
Am I a Good Candidate for Morpheus8?
Morpheus8 microneedling is safe for women and men of all skin types. If you are healthy, have visible signs of aging or blemishes you'd like to eliminate, and wish for tighter / firmer skin then you're likely a good candidate.
It is always recommended you schedule a consultation with your provider. This is the best way to determine if you're an ideal candidate for any treatment.
What Is the Cost of Morpheus8?
The cost of your treatment depends on several factors, including the areas you wish to be treated and the number of treatments required to achieve your ideal result. This is another discussion you'll have during your consultation after a plan has been created for you. The average across the US is $1,825, though it could come at a higher or lower price for you.
What Should I Expect During My Morpheus8 Consultation?
Your provider will review your medical history as well as what you hope to achieve from the treatment. Together, you'll work on a customized plan to reach your goals. This is also your time to ask any questions or address concerns you may have.
Where Is the Best Place to Book Morpheus8 in Reston?
Our team at Generations Medical Aesthetics focuses on providing professional, high-quality care to make you look and feel your best while improving your skin health. If you are interested in this incredible anti-aging, skin rejuvenating treatment, then please reach out to us.
We invite you to call us today at 703-439-1104 to schedule your consultation for Morpheus8 microneedling in Reston. We're happy you'll be joining our family of satisfied customers!
Morpheus8 Video